Iron Ore Divestment Process
In August 2018, BCI announced that it had commenced a formal divestment process for its iron ore asset portfolio, which includes Iron Valley, Kumina, Bungaroo South, Cape Preston East port rights and a number of other iron ore exploration tenements. The process was initiated after BCI received strong interest from multiple parties interested in acquiring Kumina and BCI's other iron ore assets. The divestment process is also consistent with the Company's primary focus of developing a salt and potash business in the near term.
BCI received multiple offers for various asset packages and announced that it had entered into an agreement to sell Kumina to MIN for total cash consideration of A$35M in October 2018. Consideration comprises A$27M upon completion, A$4M upon first export of iron ore from Kumina and A$4M 12 months after first export.
Discussions continue in relation to divestment of other BCI iron ore assets with several qualified prospective purchasers. BCI will only enter into further transactions if appropriate value can be realised.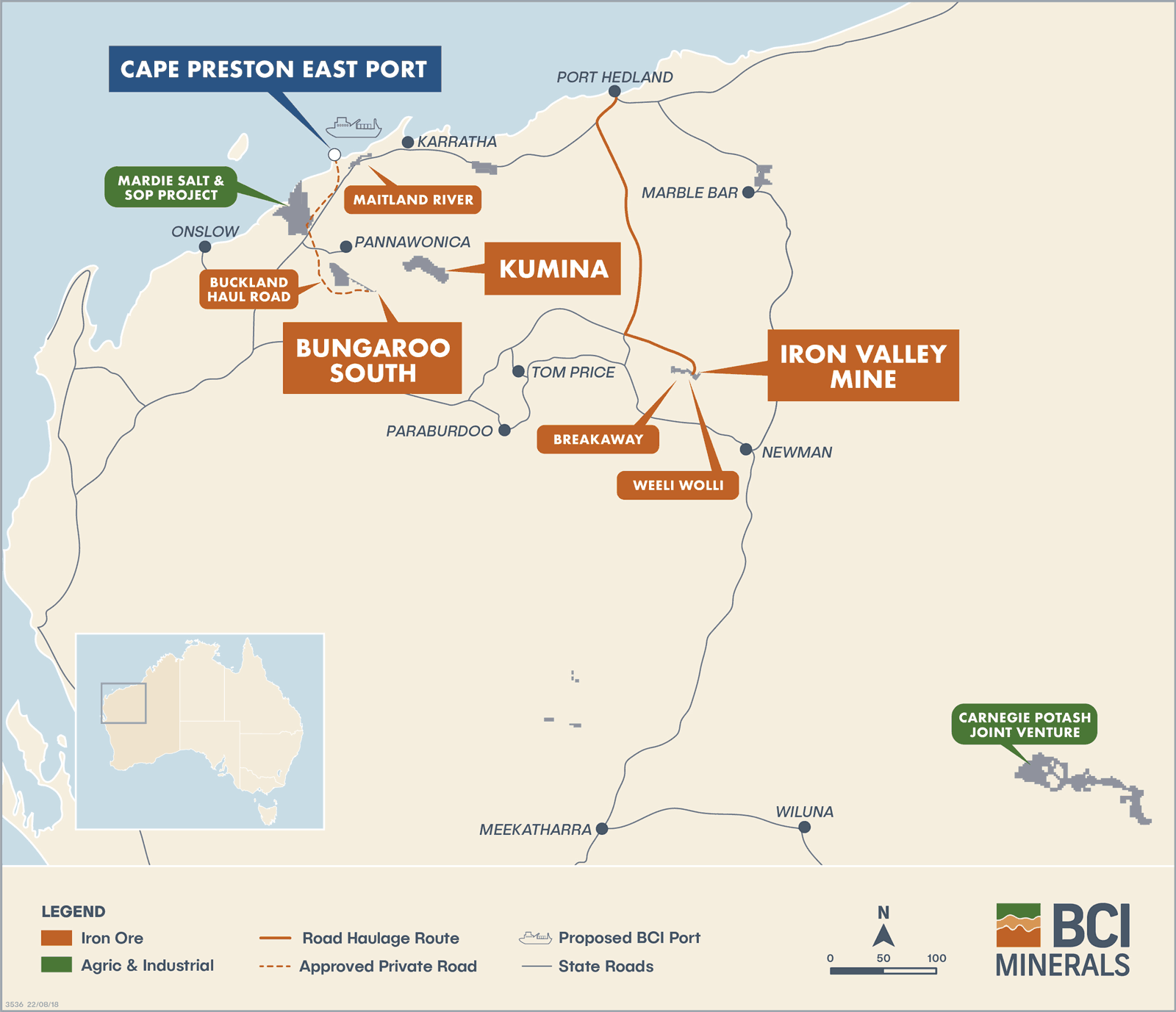 Bungaroo South
Bungaroo South and its satellite deposits have a total Mineral Resource of 283.3Mt at 56.5% Fe and an Ore Reserve of 134.3Mt at 57.6% Fe (refer here for more details).
A feasibility study was completed in 2014 on an 8Mtpa development case, and all primary approvals are in place for the Bungaroo South mine, road and port. This includes an executed Construction Works Lease and Licence with the Pilbara Ports Authority for a 20Mtpa transhipment port at Cape Preston East for an initial term of 20 years.