The Carnegie Project is a potash exploration project located approximately 220km north-east of Wiluna that comprises one granted exploration licence and two exploration licence applications covering a total area of approximately 1,700km2. The Carnegie Project is highly prospective for hosting a large sub-surface brine deposit which could be developed into a solar evaporation and processing operation that produces sulphate of potash ("SOP").
BCI has entered into a joint venture entered with Kalium Lakes Limited ("Kalium") over the Carnegie Project. Under the terms of the Agreement, the parties will form an unincorporated joint venture and BCI has the right to earn up to a 50% interest in a sequential staged manner by sole-funding up to $10.5M.
Kalium is manager of the joint venture, allowing the parties to leverage Kalium's experience and expertise in developing their primary potash project, Beyondie, which has a completed pre-feasibility study. Kalium will also contribute relevant intellectual property from the Beyondie Project, which is expected to materially reduce the time and cost of progressing the Carnegie Project towards development.
On-site exploration activities commenced at the Carnegie Project in November 2017 and a scoping study is being fast-tracked, with completion targeted for mid-2018.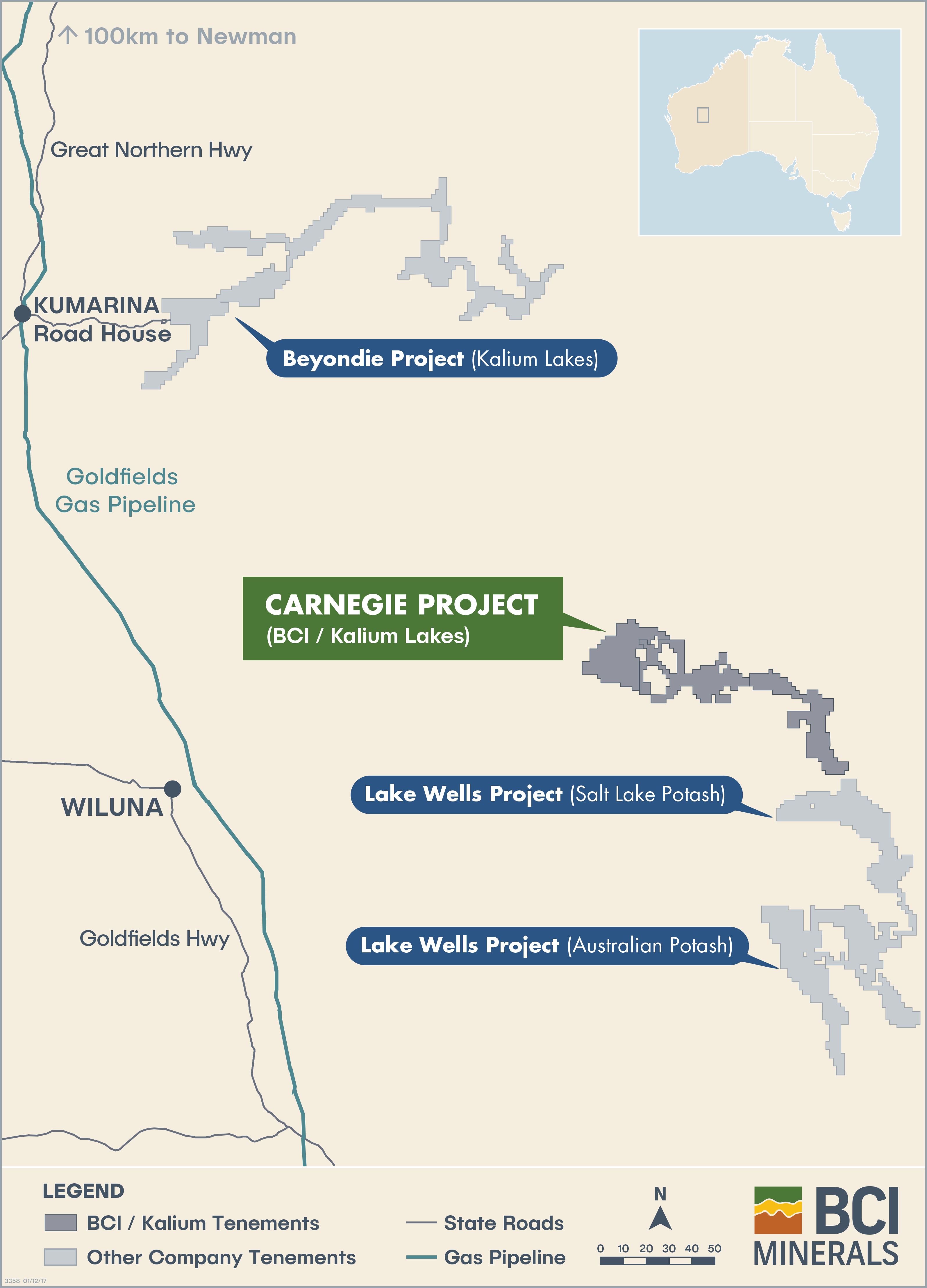 About Kalium Lakes
Kalium Lakes is an exploration and development company, focused on developing the Beyondie Potash Project in Western Australia with the aim of producing SOP for the domestic and international markets.
The Beyondie Potash Project comprises 15 granted exploration licences and a miscellaneous licence covering an area of approximately 2,400 square kilometres. This sub-surface brine deposit will supply an evaporation and processing operation located 160km south east of Newman.
About Sulphate of Potash (SOP)
Potash is the common term for salts which contain potassium (K), which is one of three primary nutrients, or fertilisers, that are essential for plant growth along with nitrogen (N) and phosphorus (P).
Fertilisers are coming into focus as higher yields are required from cropping in order to feed the global population. This is driven by population growth, and an associated decline in arable land. Rapid expansion in the global population is expected to place an increasing demand for food production on an already overburdened agricultural industry. Further, as the population rises and urban areas expand, a reduction in arable land per person available for agriculture ensues. To meet this decrease in arable land per capita and increased demand from a rising world population, farmers are required to apply more fertilisers to increase crop yields and replace nutrients used during the cropping cycle. This equates to increased demand for fertilisers in the near future and continuing for the long term.
Agronomists have labelled potash the regulator because of the key role it plays in controlling critical plant processes such as photosynthesis, protein formation, enzyme activation and starch formation. Potash is vital for healthy plant metabolism and promotes the development of strong roots, stalks and stems. It is also understood to regulate the plant's water content and expansion. As a consequence, potash increases the resilience of a plant to weather stressors such as variable temperatures, drought and high winds. Potash also boosts disease and pest resistance and is often called the quality nutrient because it enhances the appearance, taste, nutritional value and shelf life of the harvested crop.
Potash is available in various forms: potassium chloride (MOP), potassium sulphate (SOP), potassium nitrate and sulphate of potash magnesia (SOPM). Potassium nitrate and SOPM are specialty forms of potash with relatively small market sizes. MOP is the most abundant form of potash and thus is the most commonly utilised potassium fertiliser. However, chloride can be harmful to some sensitive crops
and detrimental in acidic soils. SOP is the second major form of potash. It contains less than 1% chloride, contains sulphur which is a secondary nutrient utilised by the plant for growth and has a lower salinity index than MOP. For these reasons, SOP is considered higher quality form of potash and attracts a price premium over MOP. The preference for SOP over MOP is expected to strengthen as the global population grows and arable land declines.