Mardie is a 100%-owned project that aims to produce 3.5Mtpa of high purity industrial grade sodium chloride salt and 75ktpa of sulphate of potash ("SOP") from solar evaporation of seawater. BCI completed a positive Pre-Feasibility Study ("PFS") in June 2018 which presents an attractive investment case, with a pre-tax NPV10 of A$335M, IRR of 20% and annual EBITDA at full production of A$102M. BCI is currently undertaking a Definitive Feasibility Study ("DFS").
Location
The Project is located on the Pilbara coast, in one of the world's premium locations for solar evaporation operations and in an ideal location to access key markets in Asia. Five existing operations (Shark Bay, Onslow, Lake Macleod, Dampier and Port Hedland) are situated on the Pilbara coast, which have a total salt production capacity of approximately 14Mtpa.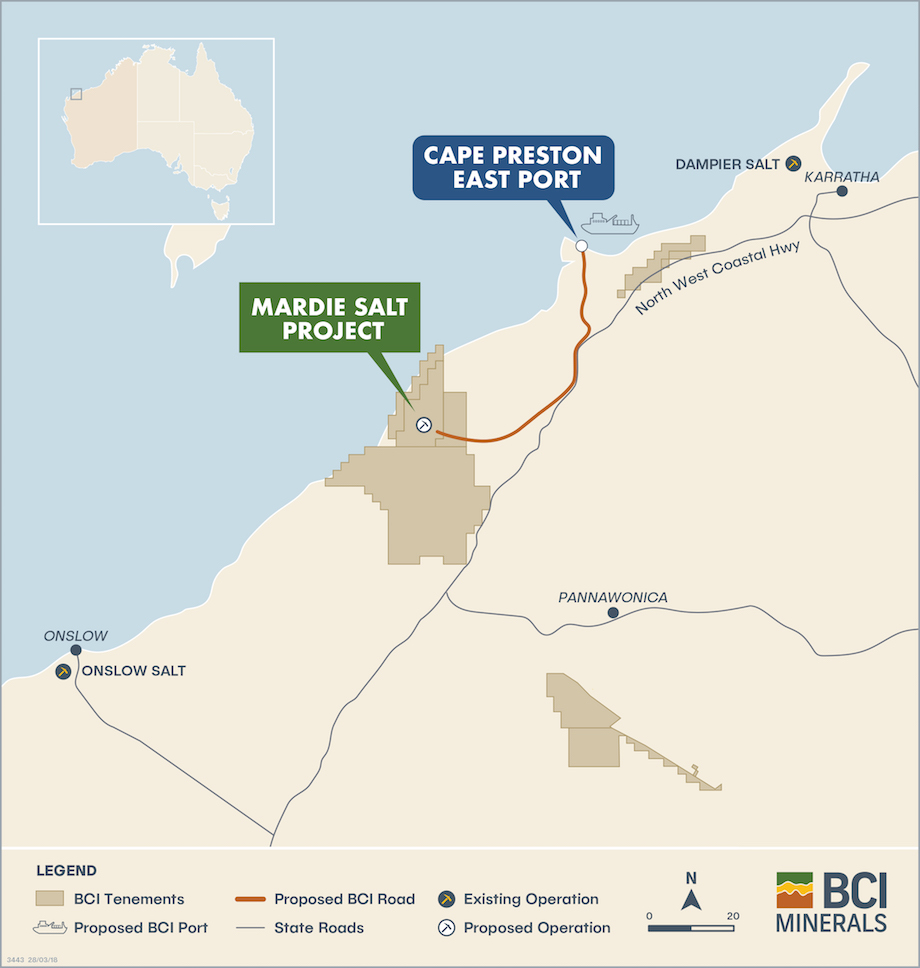 The Mardie site has all of the natural hydrological, climatic, topographical and geotechnical prerequisites for production of salt and SOP from solar evaporation, including:
channels feeding a brine source (seawater) into the Project area;
a hot dry and windy climate with a long and predictable dry season;
a large area of flat land with low permeability that is suitable for the construction of evaporation ponds; and
construction materials available on site for the construction of the pond walls.
Production
The Project plans to produce salt via solar evaporation of seawater and crystallisation of raw salt, which is dry harvested and purified to produce a high purity product (>99.7% NaCl dry basis). The 'bitterns' extracted from the primary salt crystalliser ponds will be subject to further evaporation, crystallisation and processing to produce a fertiliser grade SOP (>50% K2O). A simplified production process is shown below.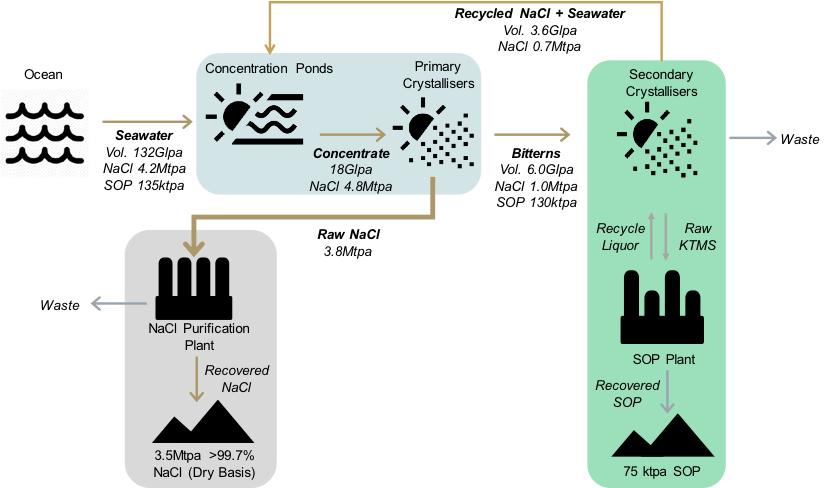 Product Logistics
The PFS base case assumes salt is transported 67km by private haul road to BCI's proposed Cape Preston East ("CPE") Port, where dedicated salt export infrastructure will be constructed and integrated with the iron ore infrastructure, which is assumed to be already in place. Salt will be loaded onto a 12kt self-propelled and self-unloading transhipment vessel and transported approximately 5 nautical miles to either Handymax or Panamax vessels at anchorage or 12 nautical miles to Capesize vessels.
A potential dedicated salt port at Mardie North has also been scoped. This would potentially reduce haulage costs and project risk, and mitigate the requirement for the iron ore facilities to be in place at the CPE Port. The Mardie North port will be considered further during the DFS.
SOP destined for export markets is assumed to be bulk packaged at site and trucked via the site access road and NWCH to Dampier Port, where the General Cargo Wharf will be utilised to export product in sea-containers to overseas markets. Sales into the Australian market could occur via road transport and/or coastal shipping.
Approvals
The Mardie exploration licences are situated with the claim areas of the Yaburara Mardudhunera and Kuruma Marthudunera Native Title claim groups. BCI has long standing and strong relationships with both groups and existing Land Access Deeds.
As part of the PFS, BCI undertook a range of environmental studies and surveys which improved BCI's understanding of the local and regional environment and resulted in a PFS project design that factors in key environmental considerations. BCI referred the Project to the DOTEE and DWER in April 2018, with an outcome on the assessment process and timeline through to environmental approval expected to be confirmed by mid-2018. BCI is confident it is well placed to secure environmental and other primary project approvals by December 2019.
Project Schedule
The Project has a five-year development timeline from the completion of the PFS to first production of salt in 2023 as shown below. During the DFS, BCI plans to optimise the development timeline and explore opportunities to bring forward the schedule.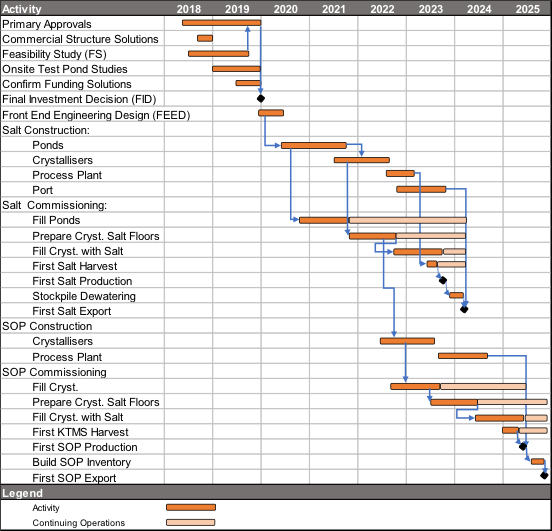 Project Economics
Capex for the Project is estimated at $335M, comprising $248M for the salt production infrastructure and $87M for SOP product infrastructure.
Opex (AISC) is estimated at $19.9/t for salt and $260/t for SOP, placing Mardie in the second quartile for high purity salt supply into Asia and the first quartile for global SOP production.
Discounted cash flow modelling presents an attractive investment case, with a pre-tax NPV10 of A$335M, IRR of 20% and annual EBITDA at full production of A$102M. Key financial metrics are shown in the Table below.
Item

Salt
SOP

Production Rate

3.5Mtpa
75ktpa

Capex

A$248M
A$87M
(Total A$335M)

Opex

A$20/t FOB
A$250/t FOB

Product Price

US$30/t FOB
US$500/t FOB

Exchange Rate

0.75 US$ / A$

Project Life (Production)

30 years

Annual EBITDA

A$102

Pre-tax NPV10

A$335M

Pre-tax IRR

20%

Payback

5 years post production start
While the Project value has been assessed over 30-years of production, the Project life could be considerably longer given the feedstock is seawater. Other solar evaporation salt projects in the region which have already been in operation for more than 40 years are still operating profitably.
Salt Market
Salt is a mineral composed primarily of sodium chloride (NaCl). Its major industrial uses are in the production of soda ash, caustic soda and chlorine; which are then used in various industrial processes including the manufacture of polyvinyl chloride, plastics, paper pulp and many other products. It is also essential for life and is consumed as part of the human diet and food preservation. In the northern hemisphere, it is extensively used in road de-icing.
The global salt market is large, with 2017 consumption totalling an estimated 339Mt. According to Roskill, the demand outlook for salt over the next 10 years is positive, particularly in Asia. Chlor-alkali production will be the main driver of salt demand growth in Asia, including a projected increase in chlorine production from 28Mtpa to over 42Mtpa in China. Soda ash production is also forecast to rise by 8Mtpa over the same period. This will in turn drive salt demand from 155Mtpa in 2017 to 213Mtpa by 2027 (an increase of 58Mtpa).
There is additional global salt supply capacity of approximately 34Mtpa forecast by 2026, of which 17Mtpa from six credible projects (including Mardie) is economically positioned to supply Asian markets. It is estimated that, with increased capacity utilisation at existing salt operations and commencement of planned new salt operations in the Asian salt trading region, a supply shortfall of approximately 26Mtpa will develop over the next decade. This is equivalent to at least seven additional new large-scale salt projects and is expected to create upward pressure on prices.
SOP Market
Potassium is one of the three essential nutrients required for plant growth (nitrogen and phosphorous are the other two). Potassium improves crop yield and quality as well as improving resistance to drought and disease. Potash minerals are the main sources of potassium and come in varying forms including SOP and Muriate of Potash ("MOP"), the most commonly used potash fertiliser. SOP is a premium fertiliser which trades at a significant premium to MOP. It is primarily used as a source of potassium for high value crops and crops that are intolerant of the chloride containing fertilisers such as MOP. SOP also has the dual benefit of contributing potassium and sulphur (a key macronutrient) to the plant.
The main processes by which SOP can be produced include: evaporation and crystallisation of brines from natural salt lakes and seawater or; by chemically converting MOP in the Mannheim process (reaction of MOP with sulphuric acid at elevated temperatures). The Mannheim process has higher opex than the solar evaporation process and is also less environmentally friendly.
The total potash market in 2016 was approximately 68Mt, predominantly comprising 58Mt of MOP, 7Mt of SOP and 3Mt of other products. In relation to SOP, the higher cost Mannheim process accounts for approximately 50% of global production, with approximately 30% from solar evaporation and 20% from other methods.
Key drivers in the increasing demand for SOP include the urbanisation of many developing countries with an increasing middle-class population which consumes greater quantities of specialty crops, decreasing arable land per capita and increased agricultural land at risk of high soil salinity.